BlackBerry Ringtone Generator
has been released
S4BB Ltd. is proud to announce the final release of the BlackBerry Ringtone Generator. The BlackBerry Ringtone Generator is a comprehensive tool for your Windows desktop that provides the complete ringtone generation process. It is designed to be easy to use to create your own BlackBerry ringtone from a MP3 file.
Supported BlackBerry Series:
7100 / 7130 Series
8100 Series
8700 / 8703 / 8707 Series
8300 / 8320 Series
8800 / 8830 Series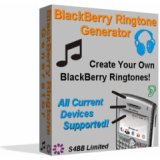 Features:
BlackBerry Ringtone Generation from a MP3 File.
BlackBerry Optimized.
Fragment Selection.
Preview Fragment.
File Size Approximation.
Upload ringtone to an Internet server* for download to your BlackBerry.
Directly save a ringtone on your BlackBerry**.
Easy Installation.
Easy Usage via GUI.

* Free service provided by S4BB Limited.
** Only BlackBerry 8100, 8300 and 8800 series.
Examples:
We have already used the BlackBerr Ringtone to generate some ringtones for your BlackBerry. Please take a look to our ringtone site here.
Screenshots can be found here.
The BlackBerry Ringtone Generator is now available at several mobile content stores like:
Moreover, we would like to offer your readers a discount of 25% OFF at our partner
MobileSoftMarket
.
Discount Code:
9K376B
(can be entered at the end of the purchase process and is valid before 2007-05-15)
(Tip: This discount code can also be used for all other products in their shop)
About S4BB Ltd.
S4BB Ltd. is a Hong Kong based company specialized on the development of mobile applications. Their BlackBerry products are market leading and cover nearly all aspects of what is possible on a mobile device. They provide applications for the mobile market like ebook readers, ebook readers bundled with ebooks, games, productivity applications, administration tools, wallpapers, videos optimized for mobile devices, mobile VoIP solutions, desktop applications for preparing data for your mobile device, multimedia mobile applications, applications combining famous web services with mobile platforms and even more interesting mobile products. Some quite famous mobile solutions from S4BB Ltd. are:
BlackBerry Video Generator: Generate your own BlackBerry videos; supporting the BlackBerry Pearl and 8800
BlackBerry Web Video Generator: Watch YouTube videos on your BlackBerry; supporting the BlackBerry Pearl and 8800
BerryDialer: Use calling cards with your BlackBerry; supporting all BlackBerry Series
BerryDict: On-Device dictionarties for your BlackBerry; supporting all BlackBerry Series
Editor's note: Please feel free to use any content and images you can find here and at www.s4bb.com.