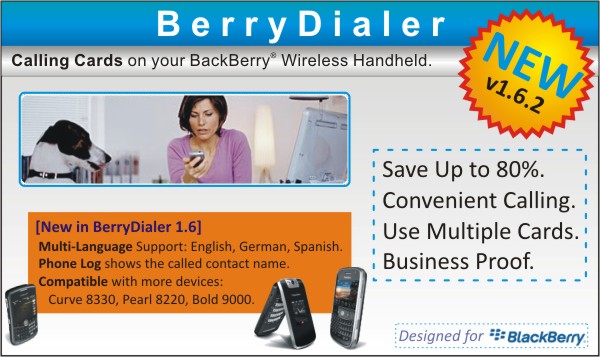 BerryDialer 1.6.2 for BlackBerry® has been released.
BerryDialer 1.6.2 for BlackBerry®
Use Calling Cards with your BlackBerry® Wireless Handheld.

New Features

More device support:
BlackBerry® Bold™ 9000.
BlackBerry® Pearl™ 8220.
Better address book / phone book integration.

Key Features

Integrates with the native BlackBerry® applications!
Dial without entering any calling card details!
Store up to 100 calling cards simultaneously.
No need to change any number of your contacts.
Works with most calling card types.
Multi-Language support: English, German, Spanish (Cat./Cast.).
BerryDialer: MSM, BerryReview, BBCool, BBGeeks, BBItalia, CrackBerry, Handango, MobiHand.