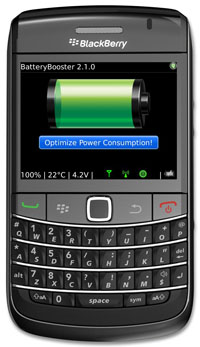 S4BB Limited has just released BatteryBooster for BlackBerry® in version 2. It is now possible to boost the BlackBerry's battery performance with revolutionary new techniques. Enjoy the new design and all new battery saving features of BatteryBooster. Get the most out of your BlackBerry® with BatteryBooster 2!
Boost your battery's current runtime!
BatteryBooster Features
Enhance the current battery runtime.
Software only solution. No additional hardware needed!
Fully configurable battery saving options.
Supported mobile devices: GSM / GPRS, CDMA and iDEN.
Battery saving recommendations for BlackBerry® settings: best practice backlight timeout and brightness settings for battery preservation.
Automatic battery saving mechanisms when devices is not used: radio or WiFi connections might not be necessary when the device is locked.
Low signal radio saver: a BlackBerry® phone searches extensively for better network coverage when the radio reception is low, this wastes an tremendous amount of power and drains the battery very quickly. BatteryBooster can now switch off your radio if reception is too low.
Plus TWO Applications included for Free! PowerControl and SmartWiFi come bundled with BatteryBooster.
More information: BatteryBooster for BlackBerry® Smartphones