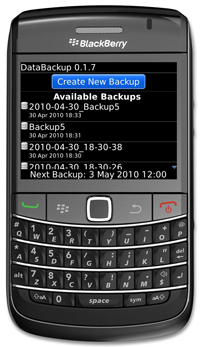 DataBackup for BlackBerry® BETA 4 is now available with new features bug fixes. Please continue to support our beta test and we invite everyone who is interested to join and check out DataBackup!
New features since version 0.1.7 (BETA 4):
Feature add: backup & restore of categories.
Feature add: backup & restore of phone call log.
Feature add: wipe data before restore (optional).
Feature add: use current ISO date as default file name (can be adjusted in options).
Feature add: report for items that could not be backed up.
Feature add: periodic backups added (daily, weekly, monthly).
Feature add: background color customizable.
Change:: general user interface improvements.
Change:: splash screen added.
Change:: better error handling.
Bug Fix:: email backup did crash.
Bug Fix:: task backup/restore; priority was wrong.
Bug Fix:: minor bug fixes.
Free and Open Beta Program: DataBackup for BlackBerry