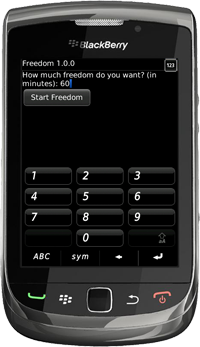 S4BB Limited just released Freedom for BlackBerry® Smartphones. Freedom is a simple productivity application that keeps you focused with just one touch.
Disengage from distractions for maximum productivity.
Core Features
Gives you time to concentrate and focus.
Fix Freedom time in minutes.
Cuts off any interruption from your BlackBerry®: SMS, email, phone calls, Facebook, Twitter, Social Feeds, BBM, news, weather info, etc.
Works with radio, WiFi, Bluetooth, GSM, CDMA, 3G, and more.
More information: Freedom for BlackBerry Smartphones