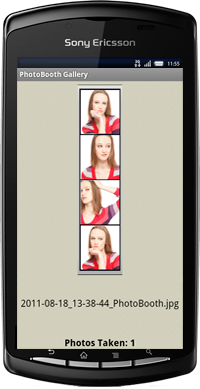 S4BB Limited announces the release of a brand new application for Android Smartphones: Photo Booth! Already a huge success for BlackBerry® Smartphones this fun application is now also available for Android users. Photo Booth allows you to create strips of 4 photos like you know from the photo booth at your local mall. Mobile and in your pocket; anywhere & anytime at hand. Photo Booth is the ideal app for capturing that legendary night out!
Features:
Remembers the WiFi locations you use.
Up to 100 WiFi locations can be saved!
Auto-add newly connected WiFi Location.
Saves battery by turning off WiFi when not needed.
Powers WiFi back on when you are back at WiFi coverage.
Compatibility:
All Smartphones running Android 2.1 and up
More information: Photo Booth for Android Smartphones