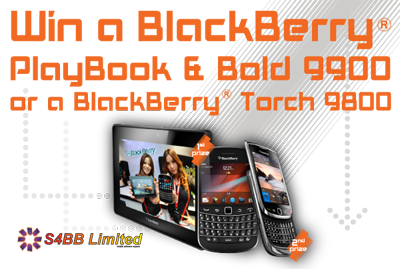 Finally the moment is here, we've launched our very own Facebook page. The place to be when you want to share app ideas & feedback. Do you like exclusive sneak previews, BETA tests and giveaways? Be sure to like our Facebook page as that's the place to be for all this..
To kick off our page in style we've organized a sweepstakes with some nice prizes. In exchange for your like and app ideas you stand a chance to win a BlackBerry PlayBook & Bold 9900 as a first prize, a Torch 9800 as a second prize and some nice BlackBerry gadgets as a third prize. Click here to go to our page.
In case you're still reading; deadline is October 24th!

_