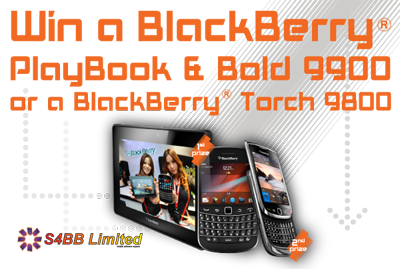 You are not attending the S4BB Limited sweepstakes on Facebook yet? Hurry up and join NOW! Great prizes are waiting for you, such as a BlackBerry PlayBook and Bold 9900 for one lucky winner. Second prize is a BlackBerry Torch 9800 followed by some BlackBerry Gadgets for the third winner.
It is so easy! Only thing you have to do is to like our Facebook page, enter your name and an app idea or favorite app as well as your e-mail address in case you win. That's it! You are in the race! After signing up you can raise your chances by inviting your friends, for every friend attending you will get 5 extra entries for the sweepstakes.
Don't waste your time and sign up NOW! This weekend will be your last chance. Deadline is October 24th!

_