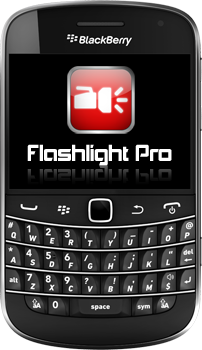 S4BB Limited just launched a major update for Flashlight Pro. The all new Flashlight Pro 3 version comes with the brightest flashlight ever! Additionally the update contains minor bug fixes and is compatible with all operating systems including the new OS 6 and 7. Flashlight Pro allows you to use your screen and camera light as a flashlight and additionally your screen as an emergency Morse-device. Bring light into the dark with Flashlight Pro on your BlackBerry® Smartphone!
Features:
Uses both the camera light and screen light as a flashlight.
Camera light will never turn off! No time limit!
Sets the brightness of the screen light to full bright for extra lighting.
Morses a SOS-Message in an endless loop by turning the camera light and screen light on and off according to the international morse code.
Compatibility:
Flashlight Pro is compatible with all devices running OS 6 and 7 including the new BlackBerry® Bold 9900.