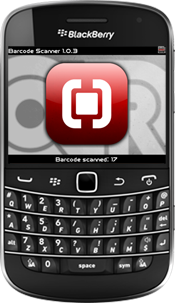 Barcode Scanner for BlackBerry® Smartphones is the newest free application by S4BB Limited. It just needs one click on the scanner button to activate the camera/scanner to read the QR-code. The URL will be displayed, you may either continue to that URL or copy it to the clipboard. It is as easy as that! Get Barcode Scanner for FREE now!
Features:
One-Click barcode scan!
Forwarding to URL with just one click.
OS compatibility: Works on all recent BlackBerry® devices.
Compatibility:
Barcode Scanner is compatible with all BlackBerry® devices running OS 6.0 or higher.
Including all BlackBerry OS 7 devices: Bold 9900, 9930; Torch 9810, 9850, 9860; Curve 9350, 9360, 9370.