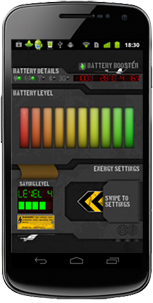 Anybody using his or her phone for multimedia, gaming and social media sooner or later runs into a dead battery. Often sooner than later. S4BB Limited now proudly presents an app that extends your battery run time; Battery Booster for Android! This software only solution requires no additional hardware, just install and save battery! Choose out of various battery saving options and optimize your setting for extended battery run-time! Battery Booster comes with a FREE version of Smart WiFi for a maximum result in energy saving!
Features:
Automatic battery saving mechanisms when devices is not used: radio or WiFi connections might not be necessary when the device is locked.
Battery saving recommendations for Android settings: best practice back light timeout and brightness settings for battery preservation.
Fully configurable battery saving options.
Compatibility:
Battery Booster is compatible with Android 2.1 or higher.