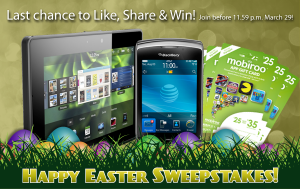 On March 19th we launched our 10-day Happy Easter Sweepstakes. We're closing in on the end of the sweepstakes. After March 29th, 11:59 p.m. entries will no longer be accepted. Use this last opportunity to enter our Easter Sweepstakes and stand a chance to win amazing prizes. We accept world-wide entries. No matter where you live, you can participate in our Easter Sweepstakes. To enter, click here: facebook.com/S4BBapps
Prizes:
Grand Prize: One BlackBerry® PlayBook™, one BlackBerry® Torch™ 9800, one $50 Mobiroo app voucher
Runner up: $50 Mobiroo app voucher (4 winners)
How to increase your chances:
Join our Happy Easter Sweepstakes on Facebook.
Share our Sweepstakes with your friends. For each friend that joins you get 5 bonus entries!
Like the Mobiroo Facebook page (5 bonus entries).