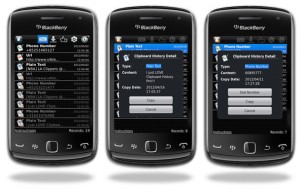 We've just released a brand new utility application for BlackBerry® Smartphones; Clipboard History! This app allows you to copy/ paste text in a complete new way! With Clipboard History you'll be able to check all your previous clipboard entries and re-use them. You can directly copy text from the app and paste it wherever you need it. Clipboard History is also able to recognize what kind of text you've copied; it recognizes phone numbers and URLs and allows you to call and surf straight from within Clipboard History. The Free version allows you to access your 3 latest clipboard entries without paying a cent! The Pro version allows you to use all previous entries. Get both versions at BlackBerry App World™.
Features
Automatically Save All Clipboard Entries
Call Numbers, Open Links, Copy Text From Within The App
Open Clipboard History From The Menu Button Shortcut
BBM™ Connected App
Compatible Devices
Clipboard History Free and Pro are compatible with all BlackBerry® Smartphones running OS 6.0 or higher.
Download
| | |
| --- | --- |
| Clipboard History Free | Clipboard History Pro |