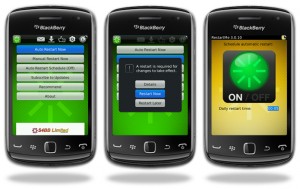 Today we've released Restart Me 3 for BlackBerry® Smartphones! This handy application allows you to reset your phone with a single click! No more battery pulls or difficult key combinations. The all new version is available for free at BlackBerry App World™.
Features
Easy to Use: restarts your device with just a single click.
No-Brainer: avoids complicated key combinations to restart your device.
Quick Reset: you can auto-restart your device or do it manually.
Free your Memory: kills all the unnecessary applications running in background freeing your RAM.
Daily Restart Schedule*: e.g. wake up with a freshly rebooted smartphone every morning at 7:00 a.m.
* this feature is only available in Restart Me Pro
More Information
For more information about Restart Me, click here.
Download
Restart Me Free
Restart Me Pro