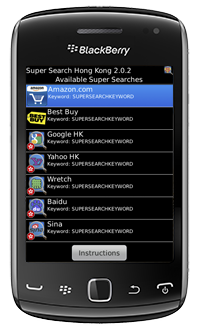 We have just released 3 new versions of our Super Search app: Super Search Hong Kong, Super Search Taiwan, and Super Search Korea. With Super Search you can turn your BlackBerry® Smartphone into the ultimate localized search tool. These Super Search apps have been optimized to find the most relevant information depending on your location. The app is very easy to use. Just start typing your keywords, select one of the search engines, and choose the best result. For those who prefer using their own search engine, it's also possible to add it to the existing Super Search database. The in-app instruction will explain how to add new search engines. The Super Search apps are available for free at BlackBerry App World™.
Features
Optimized for local search
Integrated with native search function
Easy-to-use
Compatibility
Super Search Hong Kong, Taiwan, and Korea are compatible with BlackBerry® Smartphones running OS 6.0 or higher.
Download
Super Search Hong Kong
Super Search Taiwan
Super Search Korea