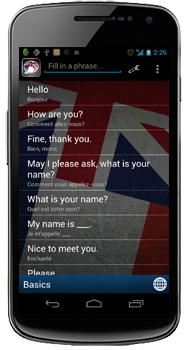 Talk French – Phrasebook for English is our latest release for the Android™ platform. French is arguably one of the most beautiful languages in the world and is spoken in 29 countries. Now, you will be able to turn your Android™ device into a French Phrasebook. Over 290 phrases in 14 different categories will help you to be heard in French! The app is very easy to use and features a search function which let's you find a specific phrase in a heartbeat. This app is perfect for travelers, students, or whoever is interested in the French language. Get Talk French Phrasebook for only $1.99 on Google Play.
Features
Over 290 Phrases
14 Different Categories
Useful Search Function
Marks all previously used Phrases
Cache Phrases for Offline use
Compatibility
This application is compatible with all Mobile Devices running Android 1.6 and up.
Download
Talk French – Phrasebook for English