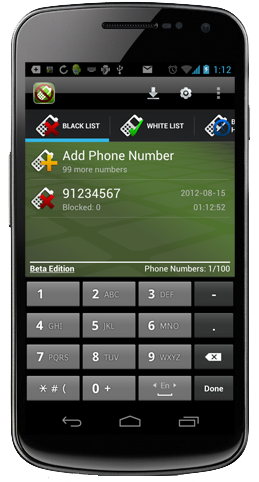 We've just released the final version for Junk Call Blocker for Android. This handy app will block incoming unsolicited calls. On top of that you can add your own numbers that you want to block, ideal when you're dealing with a stalking ex. The whitelist setting allows you to make exceptions.
Features
Blocks unsolicited calls.
2 modes: autoblock (default) & notification only.
Blacklist function – block up to 10 custom numbers.
Whitelist function – set exceptions (overrules blacklist).
Block History.
Block Numbers via: call log, last short call or manual input.
Want to block more custom numbers? Junk Call Blocker Standard allows you to block up to 10 custom numbers. With Junk Call Blocker Professional you can block unlimited custom numbers.
Compatibility
Junk Call Blocker is compatible with all smartphones running Android 2.1 and up.
Download
Junk Call Blocker Free
Junk Call Blocker Standard
Junk Call Blocker Professional