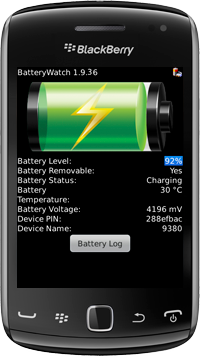 We've released an all new update for Battery Watch for BlackBerry®. The update consists of some minor bug fixes resulting in a better performing application. Battery Watch is the ideal battery monitoring application for your mobile device. Thanks to this handy app uyou'll be able to track your battery's performance. On top of that you can set audio notifications so you'll never run out of battery again without warning.
Features
Shows various battery information.
Tracks Battery performance over a day, week and month.
Audio notifications warning you when running out of battery, charging and charging completed.
Compatibility
Battery Watch for BlackBerry is compatible with all BlackBerry Smartphones running OS 5.0 and up and Tablet running OS 2.0 and up.
Download
Battery Watch