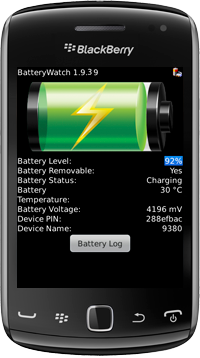 We've released a new update for Battery Watch for BlackBerry® Smartphone. The new update fixes minor bugs and as a result improves the overall performance of this handy application. Battery Watch is the ideal battery gadget for your BlackBerry® Smartphone or BlackBerry® PlayBook™. Thanks to this app you'll have a real time overview of your battery performance. On top of that, this app will make sure that you won't run out of battery ever again without warning, thanks to customizable audio notifications.
Features
Displays battery details like voltage & temperature.
Visual overview on daily/weekly/monthly battery performance.
Audio notifications when running low on battery, charging started & completed.
Compatibility
Battery Watch is compatible with BlackBerry® Smartphone OS 5.0 and up & BlackBerry® Tablet OS 2.1 and up.
Free Download
Battery Watch