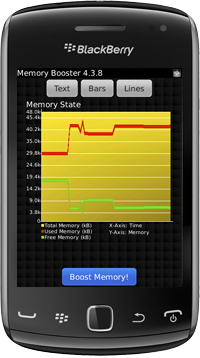 We've released a new update for Memory Booster for BlackBerry® Smartphones. The new, free, update fixes minor bugs and improves the performance of the application. Memory Booster is the ultimate app to speed up your BlackBerry® Smartphone. Thanks to this application you recover over 12MB and reassign it to other applications, speeding up your device.
Features
Recover up to 12MB or more.
Automatic background boosting.
Performance overview.
Compatibility
Memory Booster is compatible with all BlackBerry® Smartphones running OS 4.6 and up.
Download
Memory Booster