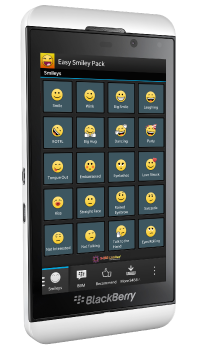 We've released an all new update for our Easy Smiley Pack application, making this all time BlackBerry® favorite now compatible with BlackBerry® 10! With Easy Smiley Pack you can easily spice up your BBM™ chats and status updates with well over 680 smileys, flags & ASCII images. Even when your friends don't have Easy Smiley Pack installed, the smileys are still visible.
Features
680+ Smileys, flags, and ASCII art images in total now.
BlackBerry® Messenger status customization.
Plugs into BlackBerry® Messenger through BBM™ Connected.
BlackBerry® Messenger can be launched out of application.
Compatibility
Easy Smiley Pack is compatible with BlackBerry® 10 & OS 7
Download
Talk Dutch – Phrasebook for English