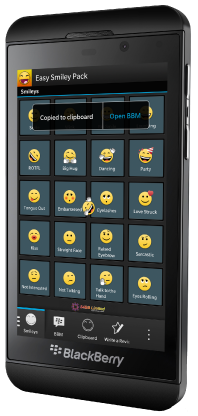 We've released an all new update for Easy Smiley Pack for BlackBerry® 10! The new update comes with an improved user interface and better BBM™ integration, making Easy Smiley Pack easier to use. We've also added a funny animation. Every time you copy a smiley, flag or ASCII art images you'll see the image you selected shake and "fall" to the bottom of your screen.
Easy Smiley Pack provides you with well over 680 smileys, flags & ASCII art images to give your BBM messages and status some extra zing! Even if your friends don't have Easy Smiley Pack installed, your friends will still see the images.
Features
680+ Smileys, flags, and ASCII art images in total now.
BlackBerry® Messenger status customization.
Plugs into BlackBerry® Messenger through BBM™ Connected.
BlackBerry® Messenger can be launched out of application.
Compatibility
Easy Smiley Pack is compatible with BlackBerry® 10 & OS 5 to 7
Download
Easy Smiley Pack