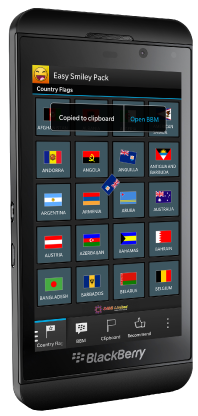 We've released a minor update for Easy Smiley Pack fixing reported bugs, improving the performing if the application. Also added is an explanation on how Easy Smiley Pack integrates with BlackBerry Messenger™.
Easy Smiley Pack is the ultimate application for any BBM™ addict. With well over 680 smileys, flags and ASCII art images, you can customize your status updates and conversations. Even if your friends don't have Easy Smiley Pack installed, they'll still see the smileys you send them!
Features
680+ Smileys, flags, and ASCII art images in total now.
BlackBerry® Messenger status customization.
Plugs into BlackBerry® Messenger through BBM™ Connected.
BlackBerry® Messenger can be launched out of application.
Compatibility
Easy Smiley Pack is compatible with BlackBerry® 10 & OS 5 to 7
Download
Easy Smiley Pack