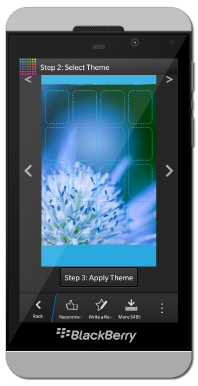 We've released a new update for Theme for BlackBerry® 10! The new update consists of 10 new themes giving you even more choice in customizing your BlackBerry®10 Smartphone!
Theme is the app to have for anyone who likes to customize their BlackBerry® 10 Smartphone. Choose your favorite application icon outlines and bar colors and combine them with your favorite wallpaper to give your phone a personal touch!
Features
30 different app icon frames.
20 different bar colors.
Intuitive user interface.
Compatibility
Theme is compatible with BlackBerry® Z10 & Q10.
Free Download
Theme