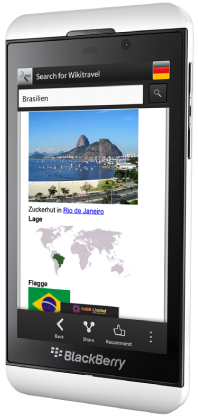 We've released a new update for our Search for Wikitravel application for BlackBerry® 10 Smartphones. The new update fixes minor bugs and improves the user interface of the application. With our free Search for Wikitravel application you'll be able to read up on your holiday destination with just the click of a button!
Features
Upcoming events.
Destination of the month.
Travel alerts.
Top destinations.
Available in English & German.
Compatibility
Search for Wikitravel is compatible with BlackBerry® 10.
Free Download
Search for Wikitravel