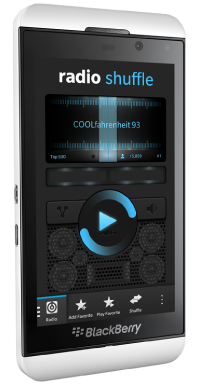 We've released an exclusive beta for Radio Shuffle for BlackBerry® 10 Smartphones. Radio Shuffle is the a brand new free radio player application that let's you pick from 500 radio stations across the globe. Set your favorite station and share it with your friends via BBM™, Facebook and Twitter. Complete with a beautiful user interface, Radio Shuffle is the ideal application for any music enthusiast out there. Whether you're into classical music, hard rock or dance, with Radio Shuffle you'll have your favorite station on anytime, anywhere!
Features
Choose from 500 radio stations.
Set Favorite Radio Station.
Share Radio Station via BBM™, Facebook & Twitter.
Beautiful user interface.
Compatibility
Radio Shuffle is compatible with all BlackBerry® 10 Smartphones
Free Download
Radio Shuffle