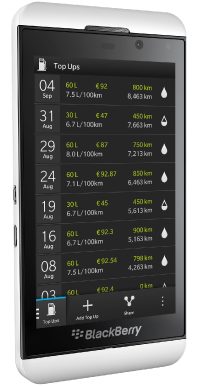 We've released a brand new update for our Petrol Usage Tracker application for BlackBerry® 10 Smartphones. The new update fixes minor bugs like the date notation of your last top-up and enhances the overall performance of the application. We've also added more details to the top-up history so you can track your fuel consumption in even greater detail. Last but not least, we've added much more detail to the top-up export file and changed the export location of it for easier access.
Features
Profile Management.
Average Consumption.
Average Expenses.
Native BlackBerry® 10 Interface.
Compatibility
Petrol Usage Tracker is compatible with all BlackBerry® 10 Smartphones.
Free Download
Petrol Usage Tracker