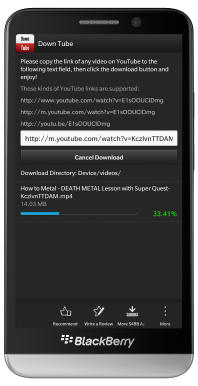 We've released a brand new update for Down Tube for BlackBerry® 10. In the new update we've included support for Metacafe videos, made sharing of preloaded videos easier and added a beautiful new splash screen and active screens. Besides that we have fixed several minor bugs and improved the performance of the application. Down Tube is the ideal app for anyone who has trouble streaming videos on-the-go. Thanks to this handy app you can now pre-load YouTube, Vimeo & Metacafe videos when you're on a stable (WiFi) network to watch them later with being interrupted by buffer times.
Save yourself the frustration of interrupted streaming videos, get Down Tube today!
Features
Supports YouTube, Vimeo and Metacafe
Quick 1 button local caching / download
Instant video viewing with BlackBerry 10 media player integration
Multi-URL support (desktop, mobile, short URLs supports)
Compatibility
Down Tube is compatible with all BlackBerry® 10 Smartphones.
Download
Down Tube