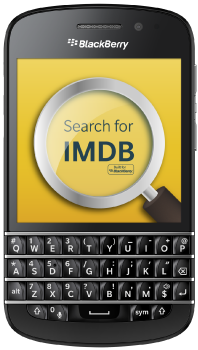 The Holiday Season is here, and that means it's time for cozy movie nights! For that reason we've released a new update for our Search for IMDB application for BlackBerry® 10. We have fixed several bugs and improved the performance of the application. We also added a nice custom splash screen. Last but not least, Search for IMDB is now Built for BlackBerry™ certified, assuring you that this awesome app meets the high standards for quality, performance and security as set out by BlackBerry®. With our Search for IMDB application you can find out all about your favorite Christmas films. Look up information on your favorite actors, directors and more! Download Search for IMDB for free today at BlackBerry World™.
Features Search for IMDB
Search Movies, Actors, Directors, Celebrities
Top lists: most-viewed movies & celebrities
Top News
Add favorites to your Watch List
New: custom splash screen
Compatibility
Search for IMDB is compatible with all BlackBerry® 10 Smartphones.
Download
Search for IMDB