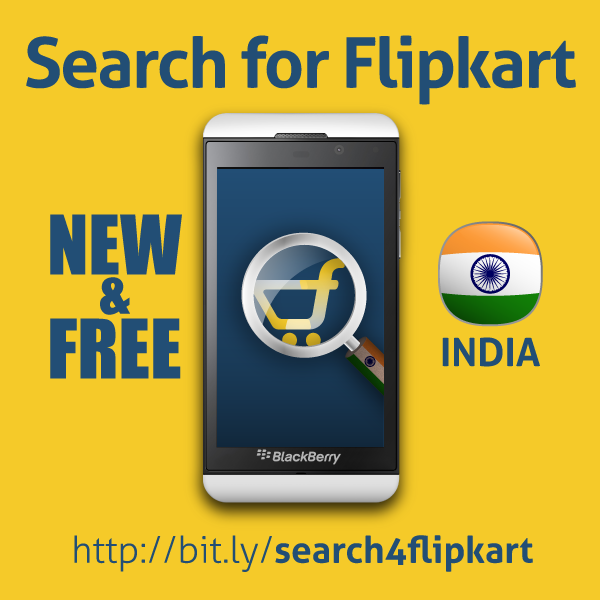 S4BB Limited has just release Search for Flipkart as a native BlackBerry 10 app on BlackBerry World. Flipkart is the largest online retailer in India – a country with a population of 1.2bln – where the global retail giant Amazon is only running on the 3rd place. Search for Flipkart allows quick access to the whole Flipkart catalog right from your BlackBerry 10 device search. While Flipkart is an online retailer in India orders can be placed outside of India as long as the delivery address is in India.
Search for Flipkart was developed due to popular demand from our huge BlackBerry 10 user base in India. We hope you all love it! We certainly love you all! You're awesome!
Features
★ Simple mobile shopping experience
★ Use your existing Flipkart account
★ Easy share of products found on Flipkart (share via BBM, email, Bluetooth, Whatsapp, Twitter, Facebook, etc.)
★ Best selling lists
★ Daily deals
★ Instant notifications of current and upcoming promotions – you'll never miss a sale!
★ Favorites List
★ Promotion Details & Search
★ Instant Type-Search on BlackBerry Q10, BlackBerry Q5, BlackBerry P'9983 and BlackBerry Passport
★ Device Search Integration (search in your home screen and tap the Search for Flipkart icon)
Shopping Categories
★ Fashion & Accessories
★ Electronics & Appliances, like: Televisions, Mobiles & Tablets, Laptops & Accessories, Cameras & Accessories, Home & Kitchen Appliances, Shaving & Hair Styling, Audio & Video
★ Kids & Baby Care, like: Toys, Baby Care
★ Books & Entertainment
Search for Flipkart has been exclusively built for the Indian online retailer Flipkart.
Compatibility & FREE Download:
Search for Flipkart is compatible with BlackBerry® Passport, Classic, Z3, Z10, Z30, Q5, Q10 & P'9982 and can be downloaded for FREE at BlackBerry World:
Free Download
Search for Flipkart for BlackBerry 10