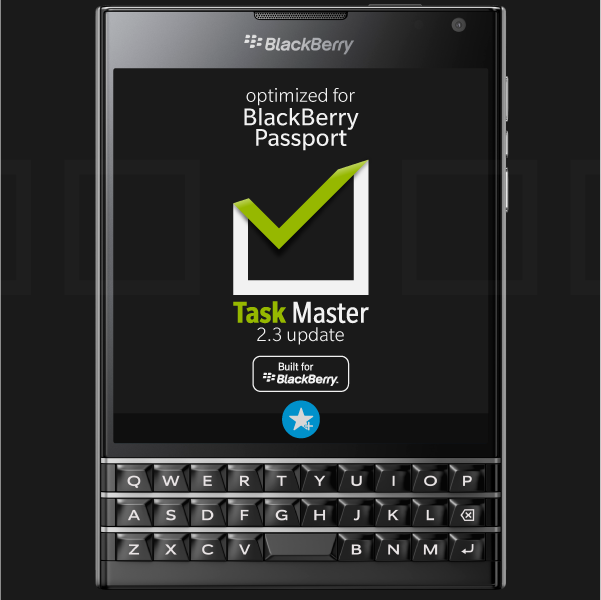 S4BB Limited has updated Task Master with full support for the BlackBerry Passport. The new version is now available on BlackBerry World. The BlackBerry Passport with its massive 1440×1440 display provides a lot of space for displaying all your daily tasks in a minimalistic and highly productive manner. Accompanied by useful and beautiful signature actions the Built for BlackBerry certified Task Master app takes full advantage of the new features in the BlackBerry Passport with the BlackBerry 10.3 OS.
Task Master helps professionals manage their daily tasks in the most productive way possible. Task Master is not just for folks who need to remember their milk – Task Master has been built for high-end productivity and the fastest access to create, edit and process tasks.
Task Master Features
✔ Native BlackBerry 10 Task Master app
✔ Easy 1-click category navigation
✔ Create, edit & delete tasks
✔ Assign due dates
✔ Task list with overdue highlights in chronological order
✔ Integrates into existing BlackBerry calendar (e.g. Microsoft Exchange Calendar, Google Calendar, local device calendar, etc.)
✔ Active Frame Support (with color-coded tasks)
Compatibility & Download:
Task Master is compatible with BlackBerry® Passport, Classic, Z3, Z10, Z30, Q5, Q10, P'9982 & P'9983 and can be purchased for $4.99 at BlackBerry World. As usual, existing users receive this upgrade for free.
Download
Task Master for BlackBerry 10