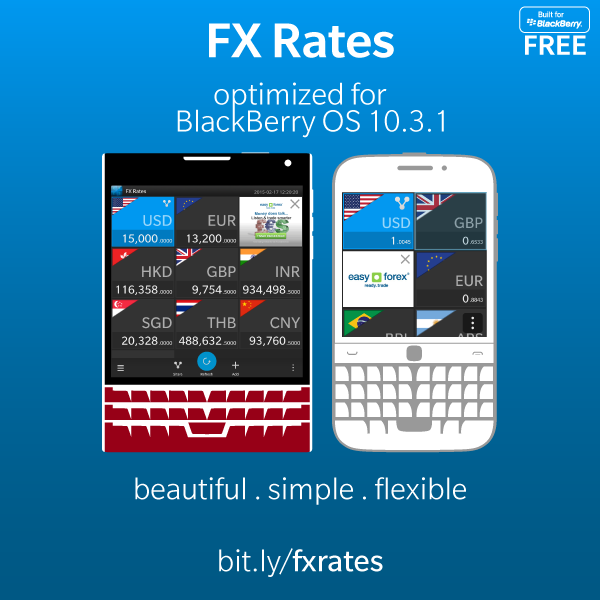 We have just released an update for their popular FX Rates app for foreign currency exchange conversion. FX Rates now supports the trackpad of the BlackBerry Classic. At the same time it caters for the larger screen on the BlackBerry Passport and can handle swipe inputs from the touch-sensitive keyboard of the BlackBerry Passport.
Currency exchange rates tool. Saves you the hassle of going to the internet just to find out the exchange rates.
All the exchange rates are stored locally on you device once updated. Just get the most updated exchange rates from the internet once and you are good to go. Comes in handy when visiting a new city where internet is not always available.
Features:
Free Real-Time Multi-Currency Conversion
Supports 139 Currencies
Cross-Currency Conversion
Any Currency can be "Primary" base Currency for Conversion
Offline Mode (no Internet needed to use latest exchange rate)
Share Cross-Currency Conversion through BBM, Twitter, Facebook, LinkedIn, Email, Text, WhatsApp, NFC
Customize Currency Order and Layout via Drag'n'Drop
Exchange Rate Update On-Demand
Compatibility & Download:
FX Rates is compatible with BlackBerry® Passport, Classic, Z3, Z10, Z30, Q5, Q10, P'9982 & P'9983 and can be downloaded for free at BlackBerry World.
Download
FX Rates for BlackBerry 10