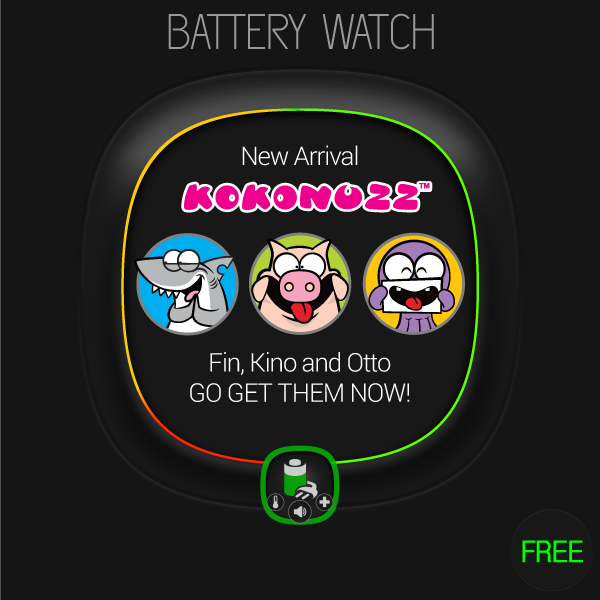 S4BB Limited has just launched a new update of Battery Watch with voices of the three main Kokonuzz™ Characters KINO, OTTO and FIN. Find out more about all Kokonuzz characters:
Get the NEW Battery Watch today! Completely re-designed and more beautiful than ever!
Are you bored of the old-school battery status image? Do you want your Android device to be more fun? Battery Watch comes with funny voices that tell you everything you need to know about your battery state!
On top of that, you get a quick yet comprehensive overview of your device's battery state.
Features:
Shows your battery status beautifully when charging – Battery statistics with graphs
Color-coded charging status (green, yellow, red)
Integrates into native Android device by showing battery state (fully charged, charging, discharging, unplugged, etc.).
Running out of battery warnings: Adjustable warning level and notifications.
33 Funny voices: audio notifications for "charging started", "charging completed" and "running low in battery" come with many voices. SPECIAL FEATURE: TSA-compliant battery warning
Battery Watch is compatible with all Android devices running Android 4 or higher.
Free Download
Battery Watch for Android


Battery Watch is compatible with all BlackBerry 10 phones, including the BlackBerry Leap, Classic, Passport, Z3, Z10, Z30, Q5, Q10, P'9982 and P'9983.
Free Download
Battery Watch for BlackBerry 10