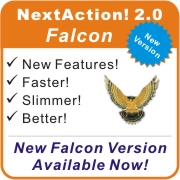 Press Release
We are proud to announce the final release of "NextAction! 2.0 Falcon".
The new version of NextAction! has been completely redesigned according to the great feedback of our current NextAction! customers. The interface is more easy to use and you can do nearly every action with a shortcut on your BlackBerry's keyboard. As the one and only GTD application for the BlackBerry platform NextAction! now allows you to improve your productivity more than ever!
Please find a description of the new version and its improved or added features below as well as a link to the new version. For your convenience we have also added a short list of recommended productivity products at the end of this email.
NextAction! 2.0 Falcon
Features | Synchronization | Screenshots | Get It Now!
Enhanced native support for new BlackBerry® models.
Performance: Significant performance boost; can handle thousands of tasks.
Reliability: Passed the longest beta test we ever made; highly stable; ensures data consistency.
Desktop compatibility: Contexts and projects synchronize to all desktop applications; compatible with programs like Microsoft Outlook, Lotus Notes, Act!, Novell Groupwise, iCal, Entourage, and more.
On-Device Compatiblity: Coexists with other task applications; no interference; works seamless with internal task application.
Notes: Full task note support.
Enhanced usability: Easier, more intuitive and faster usage; improved productivity.
Project support: Projects (identified by a "p:" prefix) are handled according to GTD.
Added user requests: Hide completed tasks; full project support; several minor bugs (thanks a lot to you!) removed.
Multi-Language support: Interface is now available in English, German and Chinese.
As Falcon is operating on your BlackBerry's internal task database you can synchronize your tasks with your desktop computer. It does not matter if you are using Microsoft Windows (2000, XP, Vista) or Mac OS X.

Setting up your desktop to synchronize with your BlackBerry (and vice versa) is very easy. A Windows setup guide for this is covered by your BlackBerry's manual. Anyway, there are two very good manuals available that cover this topic:

By setting this up all of your tasks in NextAction! can be synchronized to your installation of Microsoft Outlook, Lotus Notes, Act!, Novell Groupwise, iCal, Entourage, etc.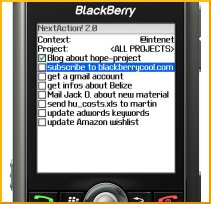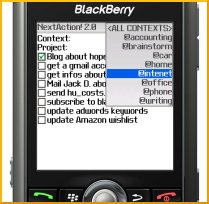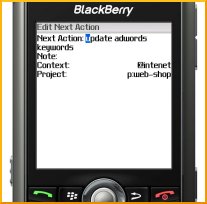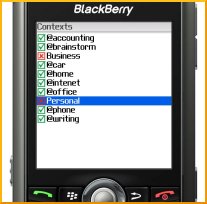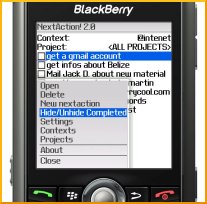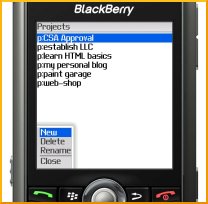 Get it now at: MobileSoftMarket ($39.95 $29.95) (enter NA20FALCONDISCOUNT at the end of the purchase process to get the discount!).
| | | |
| --- | --- | --- |
| Free Demo Download: | | |
| | | |
| --- | --- | --- |
| Documentation Download: | | |
Your mobile software experts at S4BB Limited.