S4BB Limited is proud to announce the final release of DoneIn2Minutes.
DoneIn2Minutes is supposed to work with S4BB Limited's productivity applications like TaskMaster™ and NextAction!. However, it will work with any other task application as well. As the name already tells us: DoneIn2Minutes will help you to track your task processing so you can find out how long you need for actually processing a task. The usual task processing workflow is: Checking the task list, start processing a task and marking the task as done after it has been processed completely. So now the productivity interested user can start DoneIn2Minutes before start processing a task to figure out how long it takes to process this specific task.
The two minute time frame is a specific GTD® related duration for processing a task immediately before deferring it. So all tasks that take up to 2 minutes to process should be processed directly at the moment they come up. This decreases bureaucracy in adding a task to your task processing system. With the experience a user can gather from using DoneIn2Minutes this bureaucracy can be reduced to a minimun and increase productivity!
DoneIn2Minutes
Designed for BlackBerry® Wireless Handheld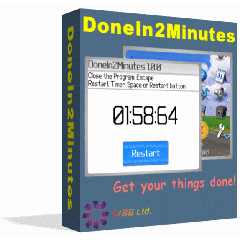 Features | Screenshots | Purchase (Download)
Description
As every task that takes longer than 2 minutes should be deferred, every task that takes less or about 2 minutes should be done right at the
moment. You can now use your BlackBerry® Wireless Handheld to figure out which kind of task takes less than 2 minutes and can be done right now.
This will help you to implement GTD® (Getting Things Done®) with your BlackBerry® Wireless Handheld.
Features
Check your Processing
Helps you implement GTD® on your BlackBerry®.
Fast Processing
Easy to use:

Start: Automatically at program startup
Restart: Hit the space bar, enter or press the restart button
Stop: Exit the program with the escape key
Screenshots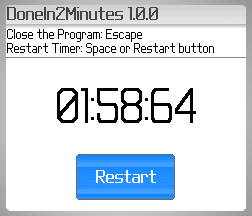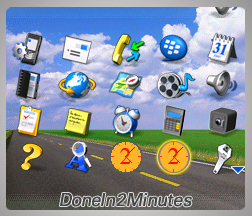 Quick & Integration Guide
Purchase (Instant Download)
Purchase with Confidence
30-DAY unconditional Money Back Guarantee
SECURE Online Ordering
NO WAITING: Instant Download
FREE Lifetime Software Upgrades
FAST Customer Support
Getting Things Done and

GTD

are registered trademarks of David Allen & Co.
Your mobile software experts at S4BB Limited