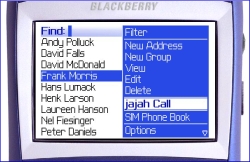 We have just updated BBCalls to version 2.0. The update comes with better BlackBerry® integration. Therefore, it is now possible to use the BBCalls menu item "Jajah Call" to initiate a Jajah call from within the BlackBerry's address book, call log, and manual number input.
Download Links:
BlackBerry® device series: 71xx, 72xx, 75xx, 81xx / 82xx / Pearl(TM), 83xx / 89xx / Curve(TM), 87xx, 88xx, 90xx / Bold(TM) and 95xx Storm(TM) series.
If you want to use calling cards with your BlackBerry please take a look at BerryDialer for BlackBerry.