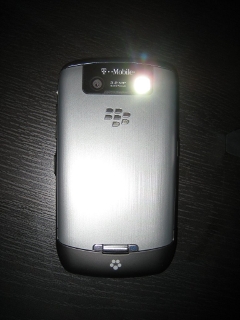 S4BB Limited just released version 2.0 of Flashlight Pro. Brand new features like camera flashlight usage and full BlackBerry® Storm™ compatibility are now available!
Core Features
Uses both the camera light and screen light as a

flashlight.

Camera light will never turn off! No time limit!
Sets the brightness of the screenlight to full bright for extra lighting.
Useful help screen for quick reference.

Morses

a

SOS-Message

in an endless loop by turning the camera light and screen light on and off according to the international morse code.
Flashlight Pro 2 is compatible with all current BlackBerry® models. A device with a video camera is required to allow access to the camera flashlight.
Website: Flashlight Pro 2 for BlackBerry®