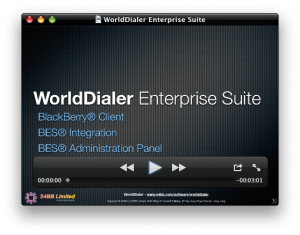 WorldDialer (formerly known as BerryDialer) is now available in version 2.1. Research has shown that up to 80% on calling costs can be saved by using calling cards for IDD or long distance calls. WorldDialer integrates well with the BlackBerry® Address Book and Call Log to provide convenient ways to use calling cards for such calls.
End users can now get WorldDialer for $9.99 by instant OTA or desktop download.
Enterprises can use WorldDialer to cut their costs on such IDD and long distance calls by using alternative calling services. With WorldDialer 2.1 S4BB Limited introduces the unique WorldDialer Enterprise Administration Panel which integrates with the BlackBerry Enterprise Server®. It is now possible to control calling card / service configurations on all WorldDialer clients installed on all BlackBerry® Smartphones within the BES® network. For more information on this please visit the WorldDialer Enterprise Page.
Website: WorldDialer for BlackBerry®