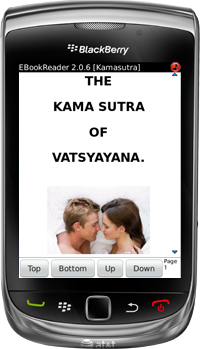 S4BB Limited has just released two versions of Kama Sutra for BlackBerry® Smartphones. Both books, the English Edition as well as the French Edition, provide you the opportunity to learn about all spiritual and physical facets of love and love making.
Enjoy the eBook with the built-in ebook reader!:
Free BlackBerry® eBook Reader included.
High Quality Fonts for better Readability.
Multi-Bookmarking Support.
Multi-eBook Support. Easy Trackball, Trackpad and Touch Screen scrolling.
Reading Progress Indicator.
Hotkey Page Navigation: Top, Bottom, Page Up, Down.
Improved Installation Process.
More information: Kama Sutra English for BlackBerry® Smartphones
More information: Kama Sutra French for BlackBerry® Smartphones