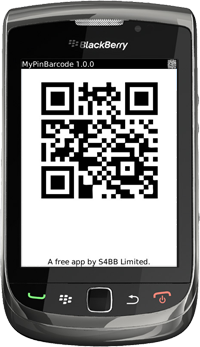 S4BB Limited just released My PIN Barcode 2.1 for all BlackBerry® Smartphones. My PIN Barcode is a very simple application that allows you to show your BBM PIN barcode with just one click!
Share your BBM pin with your friends by letting them scan the displayed barcode for a more convenient handling.
Features:
Convenient: One click access the application.
Useful: Shows BBM barcode on screen.
Smart: Instructions for convenience key setup.
Fast: Launch from everywhere and immediately.
More information: My PIN Barcode for BlackBerry® Smartphones