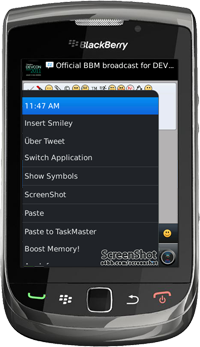 S4BB Limited just released Menu Clock 1.0 for all BlackBerry® Smartphones. With Menu Clock you can now easily view the current time by opening your menu. This works in all applications no matter they come with your BlackBerry® smartphone or you installed them as third party applications.
Menu Clock is a simple application which shows the current time in the menu for any application.
Features:
Convenient: Shows current time in menu.
Useful: Displays current time in main screen.
Smart: Formats current time according to your location (e.g. AM/PM).
Fast: No device reset required.
More information: Menu Clock for BlackBerry® Smartphones