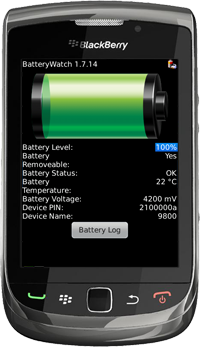 S4BB Limited just released an update to BatteryWatch 1.7 for all BlackBerry® Smartphones. BatteryWatch is one of the most popular free applications and is downloaded over 250,000 times.
New Features:
Smaller Footprint: Runs in background without icon.
Re-designed User Interface: New fancy battery power status and color codes were integrated. (red, yellow and green).
Over Time Battery Status Tracker: Line chart visualization of battery state by day, week, month.
Running out of Battery Warnings: Adjustable warnings, alarms and LED notifications as well as a BatteryWatch icon with a red star in your notification bar.
Sound Notification: Audio notification for charging started, completed and running low in battery available in 8 voices to choose from.
More information: BatteryWatch for BlackBerry® Smartphones