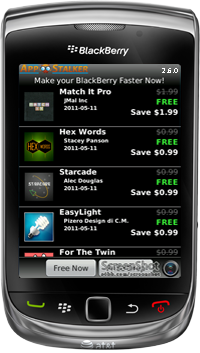 We've just releases an update for App Stalker, version 2.6. In the update once again the stability of the program is further enhanced, resulting in better and more timely results. In the new update previously reported bugs have been fixed.
App Stalker for BlackBerry® Smartphones is the ultimate tool for keeping track of apps that recently have become available for free or have dropped in price. This application runs silently in background, is easy to use and available for free. We now just released an important update, improving the interface and the displayed results of App Stalker.
App Stalker Improvements:
Increased stability of tracking system
Faster tracking, thanks to increased stability
Faster tracking of apps that dropped in price or went from paid to free
Reported bugs are fixed
Slim design makes that App Stalker runs silently in the background
Compatibility:
All BlackBerry® OS 5.0 and newer devices
BlackBerry® Bold, Torch, Pearl, Curve, Tour, etc.