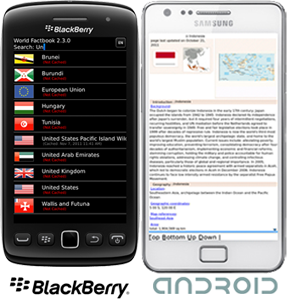 S4BB Limited just updated CIA World Factbook for BlackBerry® and Android™ Smartphones.
A perfect app for those who travel on a regular basis, go on holiday abroad or are just interested in other countries. The new version of CIA World Factbook provides detailed information based on the latest 2012 data for more than 270 countries and territories by the Central Intelligence Agency! This is the best source for country information right in your hand!  

Features:
Easy Search: Start typing and you find the country you're looking for.

Easy Navigation: Hot-keys and touch support for navigating in the content area.
On-Device Caching: Once downloaded country and territory information is cached on the device. When you are roaming in a foreign country, no Internet connection or data transfer is required.
NEW: Latest 2012 data: Directly pulled from the CIA, the World Factbook provides up-to-date information anywhere at any time!
Compatibility:
All BlackBerry® Smartphones running OS 5.0 and up.