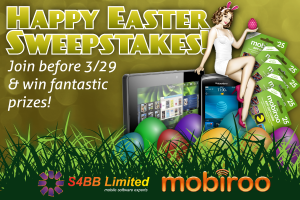 Easter is on it's way and as such we're giving away some nice goodies. First of all, the Easter Sweepstakes will run from March the 19th up until March the 29th. During this period you can download our Contact LED Indicator for FREE! Contact LED Indicator is available for Android and BlackBerry®.
In order to enter our Easter Sweepstakes, all you have to do is like our Facebook page. It's as simple as that. There are no restrictions regarding your location. People from all over the world can enter.
The grand-prize consists of 1 BlackBerry® PlayBook™, 1 BlackBerry® Torch™ 9800, and 1 $50 Mobiroo app voucher! We're also giving away 4 additional $50 Mobiroo app vouchers, to 4 other winners.
Don't wait any longer and enter here.