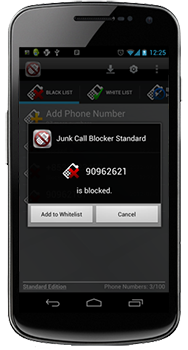 Junk Call Blocker for Android™
We've already released Junk Call Blocker for BlackBerry® Smartphones. Junk Call Blocker is designed to take away the annoyance of dealing with unwanted calls. The app can either automatically block junk calls, or you can manually add numbers that you want to block. We now have begun developing Junk Call Blocker for the Android™ platform. The app is ready for use. We're looking for beta testers in order to fine tune it. If you want to be part of the development of this amazing app then download it for free from Google Play. Let us know if you come across any issues or just want to say how awesome the app is. You can get in touch with us through Google Play.
Features
Auto-Block junk calls or receive a Warning Only.
Blacklist: add any number you want to block.
Whitelist: overrule any number in the Blacklist.
Block Histroy: view which numbers have been blocked.
Block Numbers Via: call log, last short call (<10 sec), manual number input
Block Feedback: receive a notification after a blocked call.
Compatibility
The minimum required OS for testing this app is Android 2.1.