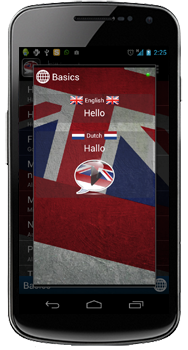 This week we're releasing multiple Talking Phrasebooks for English on the Android™ platform. The summer holiday period has arrived and if you're going to Europe on vacation, these are the apps for you:
In addition to Talk French, which we released a week ago, these Talking Phrasebooks will help you find your way around Europe. Our Talking Phrasebooks contain over 290 useful phrases in 14 different categories. For those who don't want to explore the different categories, we've created a search function. Simply type in a few keywords to have the phrase pop up. All phrases are displayed in English and their respective alternate language. After selecting a phrase you can of course try to master it yourself, or you could let your phone do the talking! Whatever the purpose of your trip is, you should always take a Talking Phrasebook with you. Get the Talking Phrasebooks for $1.99 a piece on Google Play.
Features
Over 290 Phrases
14 Different Categories
Useful Search Function
Marks all previously used Phrases
Cache Phrases for Offline use
Compatibility
Talking Phrasebooks for English are compatible with all Mobile Devices running Android 1.6 and up.
Download
Talk Bavarian Phrasebook
Talk Dutch Phrasebook
Talk German Phrasebook
Talk Russian Phrasebook