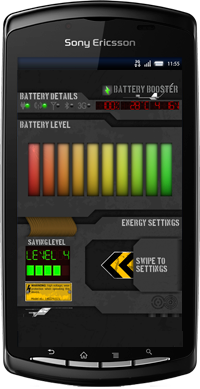 We've released a new update for Battery Booster for Android™ devices. The new updates fixes reported bugs and improves the overall performance of the application. Battery Booster is the ideal app to beef up you battery. Playing games, chatting with friends and surfing the internet demands a lot from your device, thanks to Battery Booster you can tweak your energy settings in the finest detail. More battery power is more play! For more information on Battery Watch for Android™, click here.
Features
Battery saving recommendations for Android settings.
Automatic battery saving mechanisms when devices is not used.
Low signal radio saver.
Fully configurable battery saving options.
Compatibility
Battery Booster is compatible with all devices running Android™ 2.1.