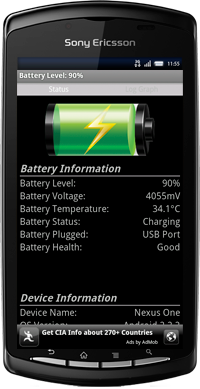 We've released a new update for Battery Watch for BlackBerry® PlayBook™ and Android™ devices. The new update fixes some major bugs and improves the overall quality of the application. Battery Watch is the ultimate battery gadget for your mobile device. Get real time details on your battery and receive funny audio notifications whenever you're running out of battery.
Features
Display battery details like voltage, temperature and more.
Track battery level over a day, week or month with a line graph.
Audio notifications when running low on battery, charging and charging completed.
Compatibility
Battery Watch is compatible with BlackBerry® Smartphones OS 5.0 and up, BlackBerry® Tablet OS 2.0 and up and all Android™ devices running OS 2.1 and up.
Free Download
Battery Watch for BlackBerry®
Battery Watch for Android™