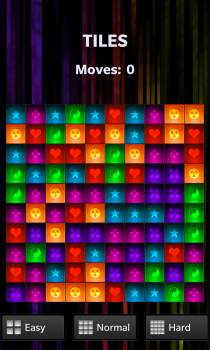 We've updated Tiles for BlackBerry® Dev Alpha. In the new update we've fixed bugs and we've updated the app icon according to the updated BlackBerry® 10 user interface guidelines. Tiles is a fun game that'll keep you busy for hours. The goal is to clear a field of colored tiles in as little moves as possible. The cleared field connects tiles of the same color; plan your moves carefully.
Features
Three difficulty levels.
High Resolution images.
Compatibility
Tiles is compatible with BlackBerry® Dev Alpha.
Download
Tiles